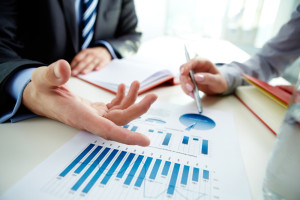 Whether you're experiencing growth, you've had a reduction in staff or you just want to understand your company's finances more in-depth, an outsourced CFO may be the right fit for your company.  Our outsourced CFO relationships often serve as independent, objective sounding boards for our clients.  Having access to a financial expert can be invaluable to your business, providing peace of mind and helping to navigate complex financial situations.
At CFO Financial Partners, we provide you with a tailor-made CFO or Controller.  We understand that you may be in need of financial expertise and business advice but can't afford the services of a full-time CFO or think it's not necessary for your business.
Outsourcing this position reduces the cost of hiring a permanent employee. We go beyond tracking expenses to provide assistance with budgeting, forecasting and explaining financial statements. We cultivate relationships and take care of other responsibilities that involve an experienced financial advisor.
We specialize in:
Strategic Planning
We advise on business structure and business relationships, calculate and monitor compliance with loan covenant ratios, profit and gross margin analysis, and mergers and acquisitions analysis, and deal with other critical business advisory relationships.
Accounting
We develop modeling for cash flow, budgeting, and projections as well as assist with the preparation of monthly or quarterly financial statements for management. We also provide guidance for accounting policies and procedures.
Tax
We are experts in assisting with business and individual tax preparation, planning, and consulting.  Our clients rely on us to assess and provide the most effective, appropriate, and valuable tax decisions for their situation.  We also collaborate with clients who outsource tax compliance and planning to help minimize their costs.
Human Resources
We establish payroll and employee benefits packages and procedures, perform compensation consulting services, and assist in recruiting accounting personnel as your business grows.
Financial Planning
We assist with a variety of financial topics such as budgeting, expenses, debt, savings, retirement, and insurance, among others.
Our outsourced CFO services are designed to address your needs, regardless of how big or small.  Whether you require a professional for a short-term project or for on-going oversight of your bookkeeper, we can provide you with the appropriate solution.
A summary of our outsourced CFO capabilities:
Financial statement preparation, review and analysis
Management reporting (from concept to production)
Board of Directors and investor presentations
Staff (bookkeeper, staff accountant, etc.) oversight and supervision
Business plan and budgeting preparation
Due diligence
Financing, vendor and contract negotiation
Systems scoping and implementation
Various regulatory reporting
And more